Fast & Reliable Oven Repair in Kitchener
Professional Oven Repair Services in Kitchener, Waterloo, Guelph & Cambridge
With parts costs and the potential for food spoilage, you want to ensure that your oven repairs are done quickly and properly.
This is why speedy oven repairs are so important.
At Max Appliance Repair, we offer:
Expert Advice on Oven Maintenance, Safety, and Usage Tips
Professional and Reliable Oven Repair Services
Same-day Repair Service from Certified Technicians
Why Choose Us For Oven Repairs
Same day service for all oven repairs in Kitchener, Waterloo, Guelph & Cambridge
Fully stocked with tools and parts for on-the-spot repairs
Quality repairs at an affordable price
Satisfaction guaranteed – your needs are our priority
If your oven won't turn on or you notice any other fault, it's always best to call a professional repair technician.
Max Appliance Repair technicians are experienced and trained to work on ovens of all brands. No matter the problem, you can be sure that our team will resolve the matter in no time.
Same Day Oven Repair
As a family-owned appliance repair company, Max Appliance Repair understands how important it is to keep appliances running. When it comes to your oven, fast appliance repairs are as essential as they get. Our same-day service will have you cooking again before you know it.
Reliable Kitchener Oven Repairs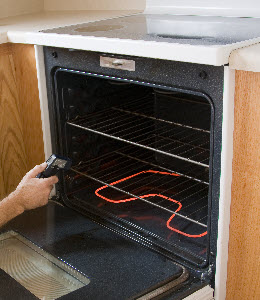 When you need to have your oven repaired, quality repairs are of utmost importance. The last thing anyone wants is to have their oven repaired only to have it break again. For oven repairs, you can rely on call Max Appliance Repair.
Trained Oven Repair Technicians
The best oven repairs are performed by trained and experienced professionals. Max Appliance Repair technicians have the experience and training required to repair all brands of all household appliances. Our expertise means that we are able to perform skilled repairs promptly every time.
Most Common Oven Problems
Ovens are the heart of any kitchen, and while they tend to be reliable appliances overall, sometimes even the best need a helping hand. You can do preventative measures but issues will pop up from time to time. Luckily, our technicians are only a phone call away. We can fix any issue with your oven, including:
Temperature regulation issues (the oven temperature is completely inconsistent)
Your oven won't turn on (issue varies depending on the brand of oven)
Oven is not cooking meals properly
The door is not aligned or closing properly
Oven interior light is not working
Oven won't heat to the right temperature
To ensure a quick resolution, verify your oven's power source before bringing in an expert. If all is well on the electricity front, then it's time to call for backup!
Call our licensed oven repair experts at (519) 783-0985
Oven Brands We Repair
Is your oven not performing as expected? We have extensive experience with all kinds of brands, so whatever type you own we can assist in getting it back up and running. Here's a brief selection:
We Repair Appliances All Across Kitchener
Our same day service all across Kitchener means that you don't need to deal with long wait times or high prices.
Neighborhoods We Serve in Kitchener
Alpine
Bridgeport Kiwanis Park
Brigadoon/Huron Park
Centreville/Chicopee
Country Hills
Deer Ridge
Doon
East Ward
Frederick
Eastwood
Fairfield
Forest Heights
Forest Hill
Heritage Park
Hidden Valley
Highland West/Beechwood Forest
Idlewood/Lackner Woods
Kingsdale
Lakeside
Laurentian Hills
Mount Hope
Pioneer Park
Rockway
Rosemount
Southdale
Cedar Hill
Mill/Courtland
Stanley Park
Trussler
Victoria Hills
Westmount
Cherry Hill
Oven Repair Questions
There is no doubt that fast repairs are essential when your oven breaks down. Without a reliable oven, cooking your favorite meal is impossible. When your oven needs repairs, you will most likely be faced with a few questions. Here are frequently asked questions about oven repair: